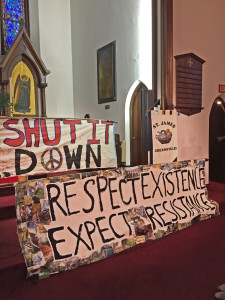 On Day #3 of a four-day, 46-mile walk to stop the construction of the Kinder Morgan NED pipeline, scores of activists gathered in the sanctuary of St. James Episcopal Church in Greenfield, Massachusetts, for a spirited rally organized by Sugar Shack Alliance. St. James Church is a grand old beauty of a building, a neo-Gothic stone structure that was consecrated in 1849. The sanctuary buzzed with excitement as a diverse crowd took their seats, many of them walkers eager for encouragement after a long day of tracing the route of the proposed pipeline on foot.
As a Christian climate activist, I found it stirring to realize that the rally was taking place on the eve of Palm Sunday, the day that Christians around the world step into Holy Week. Here were the stately altar and lectern arrayed in cloths of traditional red colors for tomorrow's service, yet here, too, were banners draped across altar, pulpit and lectern, crying out in large letters: "No Prisons, No Pipeline. Shut It Down," "Respect Existence, Expect Resistance," and "Love Will Win."
At first I was startled to see these messages spread out across the sacred space, but then I realized that their meaning was exactly right and resonated with Palm Sunday: we were here to celebrate non-violent confrontation with unjust power. On Palm Sunday we remember Jesus' entry into Jerusalem and the cheering crowds that cast palm branches on the ground to welcome him. Jesus was on a collision course with imperial Rome and all the powers of this world that rule by force and domination. He came to proclaim the power of God's love. He came without armor or weapons, riding not a war-horse but a humble donkey, as the prophet Zechariah foretold: the king of peace would come on a donkey (Zechariah 9:9-10).


I think that Jesus would rejoice in the wave of non-violent action against fossil fuels that is rising up around the country. Growing numbers of individuals and groups are confronting the unjust political and corporate powers that hold society – and the very Earth itself – in a deathly grip. Resistance to fracked gas is mounting, from Seattle to Seneca Lake, from Ashland, Oregon to Ashfield, Mass., where last week Will Elwell, a local resident, constructed with his friends a replica of Thoreau's Walden Pond cabin, placing it directly in the path of the proposed Kinder Morgan pipeline. On the eastern side of Massachusetts, in the West Roxbury neighborhood of metropolitan Boston, activists are fighting to stop the construction of the Spectra Energy pipeline project, which would bring highly pressurized fracked gas through a densely populated area and terminate at a station beside an active blast quarry.

To read the remainder of Margaret's blog and see comments: http://revivingcreation.org/protesting-pipelines-on-palm-sunday/